Now that I've outed myself as a cinema advocate, I'd better get around to promoting a couple of DVDs representing the best of the perpetually underappreciated cinema of Africa. Yes, these DVDs were produced by my girlfriend so there is some self-interest involved here, but if anyone's seen my reviews of these films from their debuts on the festival circuit, they will know that I've loved these movies from the start.
To wit, here's my review of the late Ousmane Sembene's Moolaade, from the 2004 New York Film Festival: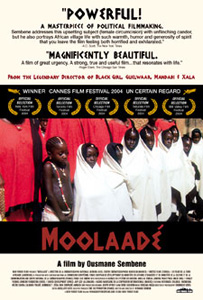 The man who helped create the African cinema, now age 81, takes a confident step towards reaching the wide audience he deserves, by making a feel-good movie about female genital mutilation. This is one of several contradictions Sembene is somehow able to pull off: on the surface this seems like the kind of politically correct, culturally exotic pap that Miramax would drop on arthouses all over America. But as atrractive and accessible as the film is, there is a lot of intriguing subtext to be explored, centered firmly on a passionate dialogue concerning the role of women in the tug of war between African cultural traditions and post-colonial modernity, between women getting circumcised in the name of chastity and getting men to put on condoms and stick with one wife. There's a stunning array of remarkable imagery, from the colorful bric-a-brac of a trader's makeshift outpost to a burning heap of radios set fire in the heat of fundamentalist fervor; it rivals the likes of JOHNNY GUITAR in making forceful, lyric poetry out of community turmoil.
Henrik Sylow reviews the New Yorker Video DVD for DVD Beaver:
There is a kind of "Making of" featurette running almost 25 minutes – a solid extras along with an insightful Sembene interview on disc 1 for about the same length of time. There is some African premier footage from 2004 in Burkina Faso. Three short actresses interviews (Maïmouna Hélèn Diarra, Lala Drabo, and Aminata Dao) running 10 minutes in total. Some haunting discussions on Female Genital Mutilation and even a competent 16-page liner notes booklet (interview with Sembene by Professor Samba Gadjigo of Mount Holyoke College etc.). Good job with the supplements NY'er.
I edited the premier footage, the actress interviews and the discussion on mutilation. If you buy the DVD you are free to tell me how poor a job I did on the cut.
Just released last week is Abdherrahmane Sissako's Bamako, a film that has silently crept up with time and reflection to become one of my very favorite films of the decade. Apparently I won't be the only one name-checking it when the top 10 lists start coming out around the end of next year – Philip French of the Guardian recently plugged it as one of the best of the decade and 50 best of the last 50 years; and Ken Russell placed it on his top ten list of all time. Here are a couple of excerpts from my review for the House Next Door:
What if Al Gore had made Bamako? This is not an absurd or unfair comparison to make. Say what you will about An Inconvenient Truth as a work of cinema, but that slideshow-on-celluloid has proven incredibly effective at galvanizing the cause against global warming. Poverty in Africa could benefit from such a forceful argument (much more so than from celebrity coverage of African orphan adoptions or Hollywood action movies set in Sierra Leone) to more readily enter the public consciousness. Alas, we cannot say that Abderrahmane Sissako's Bamako is interested purely in inspiring action against Africa's victimization at the hands of foreign debt. The film, which stages a fantasy trial against international monetary organizations for their victimization of Africans in a perpetual state of poverty, seems rhetorical by design. But there is a deeper and more troubling argument being made here. The film does as much to resist its rhetoric as to support it. What emerges is a grander agenda: not just reclaiming Africa's economic well-being, but its very sense of self.

For anyone who cares about what movies have to do with our lives, this, to me, is where the real action of the movie lies. Bamako amounts to a referendum on contemporary cinematic practices and their effect in addressing a problem as complex as that portrayed. The film is both cagey and contemplative about how to even depict this plight: a young man testifies to how he and a group of fellow migrants barely survived crossing the Saharan desert, leaving one young woman to die. His testimony is sullen and flat and frankly rather dull by conventional trial movie standards. But then Sissako cuts elliptically to a re-enactment of the young woman left lying among the blinding sands, surrounded by scavenger beetles — an image horrifying in its matter-of-factness. This is the only re-enactment of the many tragedies recounted over several testimonies and, while watching it, you first wonder why Sissako doesn't resort to it more often. But a moment like this doesn't so much drive a point home as ask a question: "Is this what I have to show to make you care?" There are very few films whose approaches are so thoroughly founded on the notion of cinema as an ethical dilemma.
Glenn Erickson reviews the New Yorker DVD for DVD Talk:
New Yorker's disc of Bamako is a beautiful enhanced transfer with a sharp image and glowing colors. The audio track is clear and bright and removable English subtitles. The languages spoken on-screen are French and Bambara. The film's emotional, catchy song is Naam by Christy Azuma & Uppers International. Director Abderrahmane Sissako takes lead position in a number of interviews. Sissako talks about his background as a film student and his commitment to the politics of his country. Actor and executive producer Danny Glover details his involvement in the project. The most inspiring of the other spokespeople is Gita Sen, a vibrant woman with great communication skills and non-confrontational political talking points.
Cindi and I filmed Gita and she is indeed a great speaker, delivering a forceful monologue on Third World debt's devastating effects on everyday people in just one take! We also worked on an interview with Yao Graham of Third World Network- Africa, a pan-African research and advocacy organisation based in Accra, Ghana.
Anyhow, please seek these discs out, as they are, without qualification, essential films of the decade and essential African films of all time.